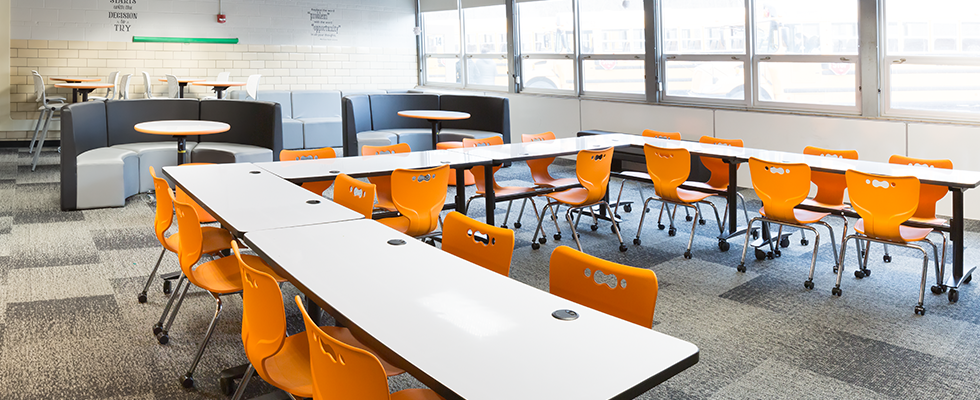 Name
Loveland City
School District
School type
First - Second grade
The Challenge:
The team at Loveland Primary School knew exactly what they were missing: a shared space where students and teachers learned from each other. What they had was an old computer lab that was proving less and less useful. Not only was it dull and outdated, but physically cumbersome and restrictive. So, when Cristin Kiefer, the school's Building Coordinator, and Traci Stubenrauch, Innovative Instructional Coach, received an innovation grant, they approached their principal about repurposing the computer lab.
Principal Kevin Fancher places a high importance on pedagogy and regularly looks at what other schools and districts are doing, encouraging his staff to do the same. So one of his main requirements for the space was that it allow teachers to pursue and grow their craft. He wanted a place for teachers to observe teachers teaching. As Fancher explains, "That's part of our goal as a professional learning community. Every staff member is constantly learning, and we want to model that for our kids."
Transform existing computer lab into a collaborative learning space for students
Create a space where teachers can observe each other teach and experiment with lesson plans
Select furniture that is mobile, versatile, collaborative and comfortable
Our Approach:
In the spirit of shared space, the team set up an inspiration wall where students, staff and parents could look at ideas of what the space might be, and vote for their favorites. This not only engaged the community, but fostered ownership and excitement for the project.
Stubenrauch brought the school's ideas and goals to School Outfitters and expressed the idea of a warm, inviting learning space where students and teachers could explore, collaborate, and discover together. Because the space would be serving the entire school, it needed to accommodate children and adults of all ages.
School Outfitters listened to the school's vision and turned it into 3D computer renderings of the space, complete with detailed product lists. After considering different layouts and price points, the team came up with a solution that felt right.
Zone learning provides physical distinctions for different types of classroom activities. There's a presentation space, and clearly identifiable areas for group work. Everything is on wheels for easy rearranging. Old HVAC floor units were replaced with low-level markerboards, so students can sit on the carpet to work. Unused bulky storage spaces were transformed into cozy reading nooks.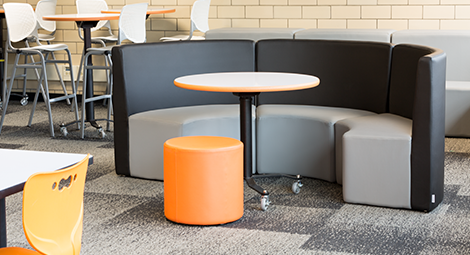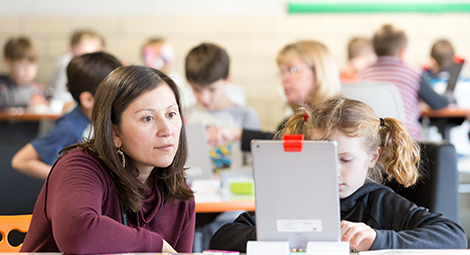 The Impact:
With the new space now open, team teaching is on the rise, student collaboration is the norm, and experimental lessons are encouraged and anticipated. Loveland Primary wanted a space where students could interact with each other and teachers could watch each other teach. And that's exactly what they got.
Have questions? We're here to help! Our experts are available by phone at 1-800-260-2776. You can also get personalized assistance through our or by emailing us. We're available Monday-Friday, 8am-7pm.