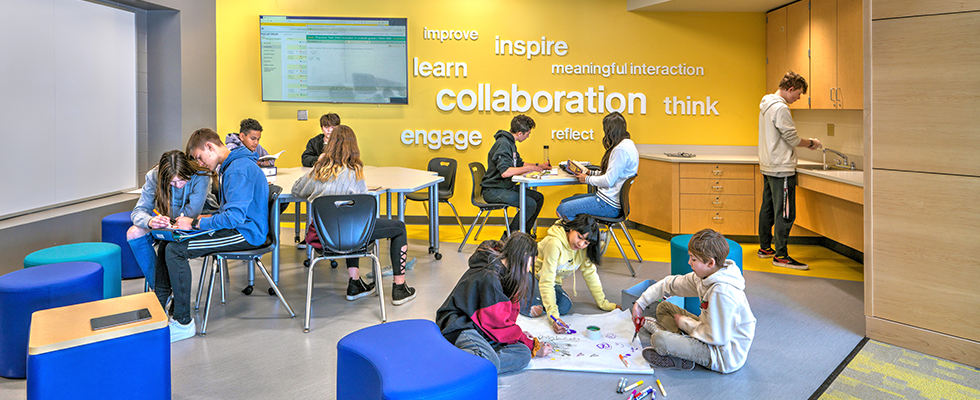 Name
Boulder Valley
School District
The Challenge:
Angevine Middle School wanted more space designed for collaborative, student-led learning. More specifically, officials wanted spaces where students could live and learn by the school's guiding principles: learning by inquiry and learning as a social process.
According to the school's "Innovation Project Plan", a document required by the district in order to receive funding, these innovations should "positively support student achievement by providing spaces for collaboration, inquiry and reading."
This meant renovating existing hallways and "team rooms" previously reserved for adults into engaging, flexible and student-centered spaces.
Our Approach:
Before any recommendations on furniture and equipment could be made, School Outfitters wanted to fully understand the school's needs and expectations for the new spaces.
"We really listened to their full needs before discussing or offering products," School Outfitters Project Manager Maddie Naber said. "Early on, we walked through the school with the assistant principal to hear their vision and what they wanted for the students."
Transform existing hallways and adult "team rooms" into collaborative, flexible learning spaces for students
Create technology enhanced zones to support a variety of work and student collaboration
Ensure spaces support school's mission of learning through inquiry and learning as a social process
Choose furniture that is mobile, versatile, collaborative and comfortable
The vision was clear: The school wanted to incorporate the three archetypal learning spaces identified by renowned educational consultant David Thornburg.
Campfire areas would accommodate large group work and traditional lecturing or "storytelling"
Watering holes would best accommodate small group work and social learning
Cave spaces (typically small nooks) would allow for quiet, individual work and introspection
With an established vision, the School Outfitters team had multiple meetings with the school's project team to understand how these spaces would function and what types of projects and activities would take place within them. From there, designs and product samples for each space were created and discussed with the team. Student and staff feedback was thoughtfully considered as well.
Taking the time to listen and design each space just right is what stood School Outfitters apart from the competition.
"If I wanted a deeper color or a different fabric, they found it," Angevine Assistant Principal Megan Weir said. "There weren't any concerns that weren't immediately addressed with a solution."
"We went through multiple design changes for each space," Naber said. "We created over 40 different renderings to get this just right."
"I thought that they put the effort into the designs," Weir said. "Many companies used the same furniture in each area, [but] School Outfitters had different ideas for each one."
In the different campfire areas, for instance, School Outfitters' room experts furnished large, mobile and collaborative tables in various shapes: triangles, crescents, rectangles and half-rounds. Soft seating was dispersed throughout to mix and match with the tables as well. Heavy-duty casters allow the tables to be easily pushed together or pulled apart for impromptu group work. And, certain stackable tables allow students to push them off to the side and use floor space for robotics or other maker activities when necessary.
Bowtie and cog tables were placed in the cave areas for individual or small group work, as well as Learniture soft seating pieces with high backs. This gives students more intimate space to work alone or in groups of two.
In the watering holes, curved soft seating with structured backs was set up for comfortable, small presentation spaces. The curved seating gave the spaces an enclosed, cozy feel while keeping sight lines open for teachers.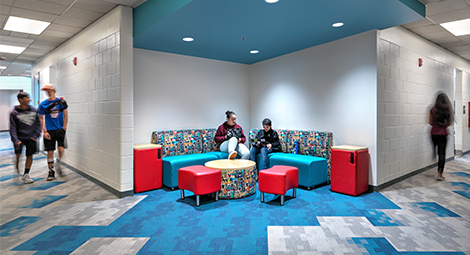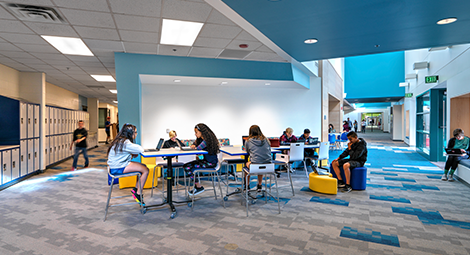 The Impact:
Angevine Middle School teachers were surveyed after the renovation. Within a week of opening, 95% reported using the Innovation Space to advance their AVID (Advancement Via Individual Determination) teaching strategies and nearly two-thirds achieved an improvement.
Many observed "greater focus" and "completion rates" in their students' work while using the Innovation Space, plus "increased engagement." Survey comments indicated the space was truly "student-centered" and encouraged "more authentic conversations" within small groups. The consensus was that wasted space had been replaced by innovation and was now available for students to utilize throughout the school.
Have questions? We're here to help! Our experts are available by phone at 1-800-260-2776. You can also get personalized assistance through our or by emailing us. We're available Monday-Friday, 8am-7pm.