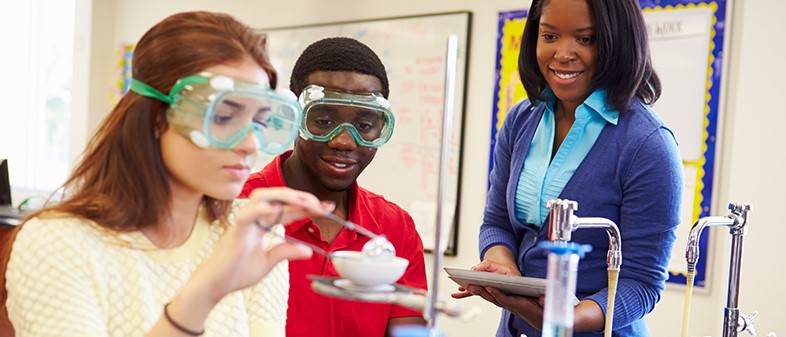 Teacher-led project work blends student-centered, project-based learning with traditional, lecture-style instruction. In other words, teachers direct active, hands-on learning within the classroom - often via long or short-term projects.
In this strategy, teachers oversee how and when students must accomplish a specific project and provide explicit instructions, explanations or examples of new concepts. The teacher may prompt students to work in groups, explore specific strategies of work or a set of new ideas. To some degree, students are steered toward a project's desired outcome by the instructor. Ideally, this method strikes a healthy balance between student collaboration and teacher-led instruction and communication.
There is no right or wrong way to implement teacher-led project work within a class. Projects can constitute the entire curriculum or simply consist of a few hands-on activities. The degree to which the teacher directs or becomes involved with student projects can vary greatly as well.
Why choose teacher-led project work?
Teachers take a more active role in their students' learning process and well-being.

When teachers actively lead or direct student work, they're able to quickly identify and correct errors in student thinking. This can prevent students from misunderstanding assignments or feeling left behind in coursework. Alternatively, teachers can quickly identify "gifted" students or students with special interests and tailor instruction or content to their abilities. When students feel an instructor cares about their academic success and well-being, their self-worth grows.

Students are generally better-behaved.

Studies have shown that teacher-directed classrooms are generally better behaved. In teacher-led project work, the instructor exerts control over the class through clearly defined expectations, rules and routines. Methods of research or work that promote focus on the teacher, such as demonstrations or labs, are often used in a teacher-led class as well. These methods can distract students from exhibiting undesirable behavior. When students are well- behaved, class time is used more efficiently and is often more productive.

Class scores often improve.

Effective teacher-led learning can improve critical thinking skills and overall class scores - largely because the instructor controls (to varying degrees) the way concepts are discussed or worked on, can quickly identify errors in thinking and maintain a more orderly atmosphere.
How can I design a classroom that supports teacher-led project work?
A classroom designed to support teacher-led project work has furnishings that cater to student collaboration plus lecture-style instruction.
Mobile school desks and chairs, for example, allow students to rearrange themselves both for group work and lectures. Consider desks with whiteboard tops, which support students' impromptu brainstorming and help eliminate the need for paper.
Spacious activity tables can seat up to six students at once, plus provide plenty of space for hands-on work. Certain models come with both locking casters and glides for ultimate versatility.
A central dry-erase board is an ideal tool for teacher-led instruction. Whether it's wall-mounted or mobile, whiteboards provide a focal point during lessons to write instructions, display materials and more. Consider a glass or acrylic board. While expensive, glass and acrylic boards tend to outperform porcelain and melamine options and are incredibly durable and long-lasting.
Don't forget to add durable classroom storage to organize and store project materials. Mobile bin storage makes it easy for students to pass and share supplies and can be easily pushed out of the way when not in use.
For more ideas on how you can design a classroom that supports teacher-led project work, check out our collection of proven classroom designs.
Have questions? We're here to help! Our experts are available by phone at 1-800-260-2776. You can also get personalized assistance through our or by emailing us. We're available Monday-Friday, 8am-7pm.