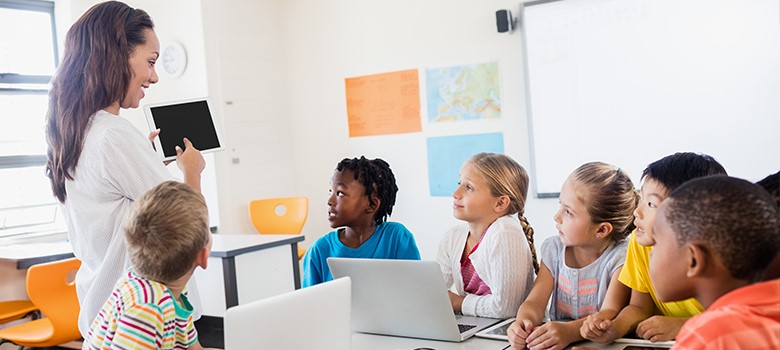 Blended learning combines traditional teaching methods, such as face-to-face lectures, with Web-based content and instruction, often within a supervised, brick-and-mortar classroom.
In blended learning, students are given a certain level of control over the time, place, pace, or path of online instruction. This often means that students are able to skip forward, rewind or pause online content, or spend time learning in a place of their choosing, like a coffee shop, library or classroom. In part though, blended learning requires face-to-face classroom practices with an instructor present.
Countless types of digital or Web-based media can be used to facilitate blended learning, such as video- recorded lectures, webinars, podcasts, chat rooms and email. Even social media such as YouTube, Facebook and Twitter can be integrated into a blended learning model.
Because blended learning is a highly context-dependent strategy, no universal definition of it exists. The strategy may also be described as personalized learning, e-learning, hybrid learning or integrated learning.
Why choose a blended learning model?
Students take on more responsibility for their academic success.

The use of Web-based materials and independent work time in a blended learning program challenges students to regulate workflow, manage deadlines or attain academic goals without the constant oversight of an instructor. Blended learning naturally requires a certain level of self-governance, which can translate well across other subjects. This feeling of academic ownership can increase student confidence and overall success.

Instant access to student data.

Most blended learning programs incorporate software that automatically collects and analyzes student data, such as test scores, log-in times or assignment progress - thus giving teachers, students or parents instant access to highly detailed and accurate information. Such transparency can improve work efficiency and communication in and outside of the classroom.

Learning is personalized.

In a blended learning model, students can typically work through online content at their own time, pace and place. This allows students to truly understand (and not just quickly cover) material before moving on. Such flexibility prevents students who may need extra time to grasp new concepts from getting left behind.

On the other hand, gifted students, or students with special interests, can use the Web-based or educational technology available to advance their skills, explore new topics and exceed curriculum restrictions. Plus, the ability to instantly gather and analyze students' academic progress via software allows instructors to tailor assignments or teaching methods to each student.

Learning is flexible.

Because certain content is posted online and available 24/7, it's easy for students and teachers who miss class due to illness, family emergencies, vacations and the like to catch up quickly.
How can I design a classroom that supports blended learning?
Ideally, a blended classroom should be tech-friendly and flexible enough to support various types of in- person learning.
Think
mobile school desks
that can be easily reconfigured for everything from small group work to traditional lectures, or
modular soft seating
that students can pick up and move to learn where they're most comfortable.
Because blended learning heavily incorporates digital media, consider furnishings with electrical outlets and USB ports to keep laptops or tablets up and running. And, don't forget a mobile charging cart to store and organize shared devices.
For more ideas on how you can outfit a classroom that supports a blended learning curriculum, check out our collection of proven blended learning classroom designs.
Have questions? We're here to help! Our experts are available by phone at 1-800-260-2776. You can also get personalized assistance through our or by emailing us. We're available Monday-Friday, 8am-7pm.