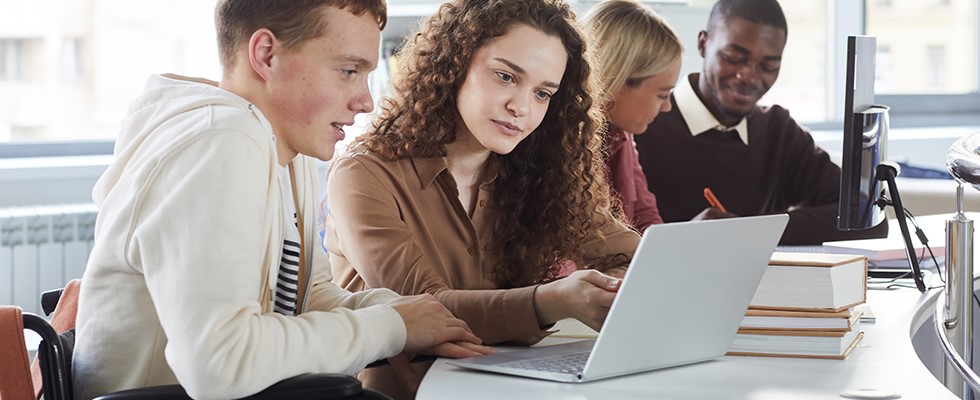 Creating a learning environment that supports both disabled and non-disabled students can be challenging, but the rewards are well worth the effort. According to The Atlantic, "as many as 85 percent of students with disabilities can master general-education content if they receive educational supports." Additionally, inclusive classrooms allow non-disabled students to "benefit socially by forming positive relationships and learning how to be more at ease with a variety of people."
Having an inclusive classroom helps educators provide a balanced education to their students. So, how exactly can schools continue to support educators as they lead all their students toward success?
Utilize flexible classroom furniture
Flexible classroom furniture has become popular in part because it empowers students to learn in ways that are most comfortable to them. But flexible furnishings have another benefit: they can provide disabled students with workspace that fits their needs without calling attention to their differences.
Examples of flexible classroom furniture include:
Sit-to-stand desks allow fidgety students to stretch their legs without disrupting others, while floor tables can be ideal for students with sensory sensitivities. Tilt-top tables blend seamlessly with standard tables and offer customized accessibility.
Adding flexible furniture can be a solution for many students who struggle to feel comfortable throughout class. However, furniture is just one important facet of creating an inclusive classroom – the overall layout of the room is just as crucial.
Design accessible classroom layouts
Designing a classroom layout that's accessible and welcoming to everyone doesn't have to be difficult. In fact, with a little forethought, almost any space can be designed with accessibility in mind. Here are a few tips on how to work inclusive design into your classroom layout:
Keeping classroom walkways clutter-free is critical to accessibility, too. Floor clutter like backpacks or jackets can inhibit students with walking aids or wheelchairs from moving freely about the room. Ensure students keep their personal belongings stowed away to make maneuverability easy for everyone.
While the physical structure or size of the classroom may prevent teachers from designing their ideal space, these small changes can be easy to implement and can help make disabled students feel more welcome.
Create opportunities for shared experiences
Shared experiences open the door to friendship and understanding – and create an atmosphere of inclusiveness.
Having interactive items in the classroom can help students form connections with each other, whether it's educational toys and games or indoor gross motor play.
Creating an outdoor classroom with portable vinyl floor cushions is a great way to bring students together for shared tactile lessons, whether it's identifying basic colors or understanding how pollinators work with plants. Mud kitchens and water tables can be highly tactile and interactive teaching tools that bring young students together organically too.
Makerspaces workstations, which can be adjusted to accommodate students of all sizes, offer plenty of space for hands-on group projects like robotics or circuitry.
When educators create shared learning experiences, whether indoors or out, students are more likely to learn how to be at ease with those who are disabled. Experiencing new things together can highlight similarities over differences and help to bridge the gap between students.
Need to speak to an ESSER/EANS specialist?
Leave us your information and an ESSER/EANS specialist will contact you shortly.
Need to speak to an ESSER/EANS specialist?
Thank you! We've received your information. One of our specialists will be in touch with you shortly.
Creating inclusive learning spaces can be intimidating at first glance, but even small changes can have big effects. When students feel comfortable in their classroom and can easily socialize with each other, they learn to celebrate their differences and can even improve academically.
Have questions? We're here to help! Our experts are available by phone at 1-800-260-2776. You can also get personalized assistance through our or by emailing us. We're available Monday-Friday, 8am-7pm.