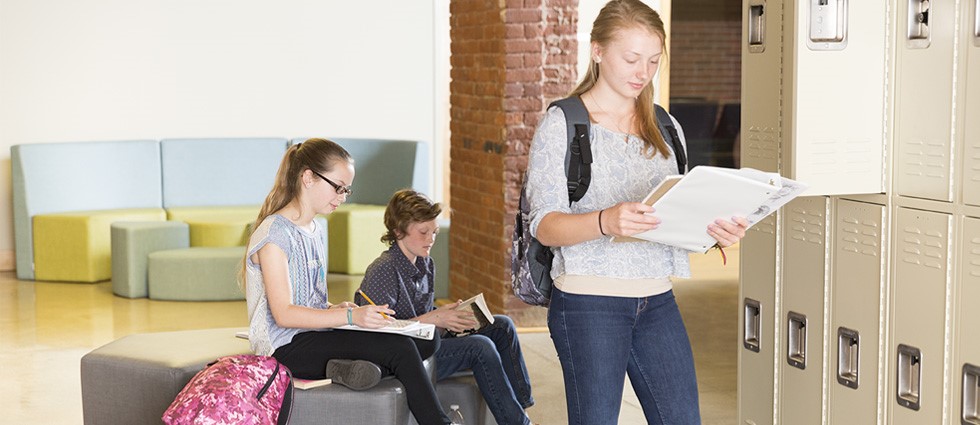 School lockers are integral to the safety and organization of student belongings, but choosing the right kind can feel overwhelming. Options run the gamut from traditional metal to plastic and wood, from single-tier to multi-tier, from wall-mounted to free-standing and more.
Here are 7 valuable things to consider when choosing school lockers.
Your needs
Assess the specific requirements of your school. Consider the number of students, available space, and the items students will need to store. Pro tip: Be sure to account for things like fire alarms, water fountains or windows when measuring your total available space.
Locker material
Locker material ranges from wood and plastic to metal. Metal lockers are durable and long-lasting and often the go-to material for middle and high schools. Plastic lockers won't rust or dent and can be confidently used in damp environments like locker rooms or pool areas, while wood lockers are easy to clean and offer an upscale look.
Configuration
Consider both single-tier and multi-tier lockers. Single-tier lockers provide more storage space per unit and allow students to keep all their belongings in one place. Multi-tier lockers are ideal for schools with limited space, as they allow more students to have lockers in a smaller area.
Slope-top lockers prevent clutter while flat-top lockers allow for additional storage. A "closed style" locker base eliminates the need to clean underneath and prevents lost items.
Locking mechanisms
Choose between traditional padlocks, built-in combination locks, or electronic locks for added convenience and security. Padlocks are highly secure, but combination locks do not require keys.
Ventilation
Lockers with vents circulate air and prevent moisture build-up that can cause unpleasant odors and mold. Standard metal lockers are typically equipped with door vents. Athletic lockers feature perforated sides and doors to allow mass airflow around jerseys, shoes and equipment.
Customizable options
Look for ways lockers can align with your school's branding. For instance, certain vendors offer customization options such as colors, logos, nameplates or numbering.
Accessibility
Ensure the lockers are accessible to all students. This may mean installing a mix of locker heights to cater to students of varying ages and mobility, or implementing features that are easy to operate for students with limited dexterity, such as easy-to-grasp handles or magnetic closures.
Have questions? We're here to help! Our experts are available by phone at 1-800-260-2776. You can also get personalized assistance through our or by emailing us. We're available Monday-Friday, 8am-7pm.